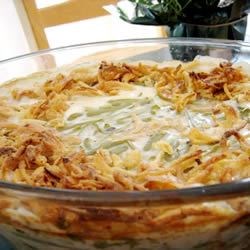 It's almost here. What a special time of the year it is when we celebrate the birth of Jesus.
This week I thought I'd share some of my favorite Christmas recipes with you.
For our family, Christmas wouldn't be the same without the green bean casserole. Here's my recipe for it.
Green Bean Casserole
Ingredients: What you'll need
About 3 to 4 cups of fresh green beans cooked and drained, (don't forget to remove the strings)
3/4 cup milk
1 (10.75 ounce) can condensed cream of mushroom soup
1/3 of a 16 ounce block of Velveeta cheese.
(I've tried different types of cheeses but nothing gives the correct flavor like Velveeta.
1/3 can (10.75 ounce) of
Campbell
's Cream of Mushroom Soup with Roasted Garlic
French fried onions for topping. I also mix in a handful for flavor. (see my French fried onion recipe below)
Salt and pepper to taste
Directions:
1. Preheat oven to 350 degrees F (175 degrees C).
2. In a medium casserole dish mix together cooked green beans, milk, both cream of mushroom soups, the cheese, and a handful of onion strings.
3. Bake for 25 minutes in the preheated oven, until heated through and bubbly. Sprinkle remaining onions over the top, and return to the oven for 5 minutes. Season with salt and pepper to taste.
Ingredients
2 large onions, sliced into thin rings
2 cups milk
2 cups all-purpose flour (I use gluten free)
oil
salt
Soak the onions in the milk for 5 minutes.
Heat the oil in a large skillet or deep fryer.
Take a handful of onions and run them through the flour with a fork to coat.
Fry in batches in the oil, stirring as needed to brown evenly.
Drain on paper towels and season to taste.
Store in an air-tight container
I hope you enjoy it...
Mary